Once upon a time, a young girl lived in a humongous, six bedroom loft in Williamsburg. She had no food allergies to speak of. At nineteen years of age, there was little to fear, except for being carded at the bodega. And since this young girl lived behind a Thai restaurant, every day for lunch, she ate a big plate of pad thai. Pad thai became a ritual to the girl. It was summer, so every lunch was consumed on the bench outside the restaurant.  Not many people walked on North 5th Street. It was a quiet ceremony she came to enjoy.
Until one day, that pad thai made her sick. Really sick. "It's just bad eggs," she thought. Later, a glass of soy milk was consumed. And even more sick she became. A lightbulb clicked. Soy was the enemy. Sadly, this made her mid-day tradition no longer an option. And even sadder, the Thai restaurant closed down. The young girl went with it, well, at least to a one-bedroom in Greenpoint. She still lives in Greenpoint, in that same one-bedroom, but she is 21 now. And now, she has become allergic to everything she loved about those summer lunches.
Soooo, I'm going to stop talking about myself in the nostalgic third person. Not just because it is sad and weird, but it is making me sad and feel weird. Anyways, pad thai is a big ol' memory for me, and over the years, I've developed an allergy to pretty much EVERYTHING IN IT.  Not only is pad thai a no-no to the non-soy, the prevalence of peanut butter and crushed peanuts is a hazard. Egg is stir-fried in with sesame oil. Combined with fish paste in the sauce, pad thai renders the dish akin to  kryptonite for soytards, sesametards, nutards, glutards and fishtards. Total fail for anyone with any kind of allergy, really.
Let me tell you something, though. One cannot fight cravings for long. I tried my own variations, I tried everything. EVERYTHING. Nothing was good enough, oh no. So, tonight, I impulsively took the train one stop, got out, went to Sunac and purchased rice noodles, a handful of green things, and sriacha. Anyone who walked by me knew I was on a mission to make Thai food. What they didn't know is that it would be DORK STYLE.
I went home, I whipped it up and I whipped this out. Here's a recipe for making your very own Pad Thai, dork-style. check it out.
8 oz rice noodles, boiled

1/2 cup red onion, chopped

3 cloves garlic, chopped

2 tbsp canola oil

6 green onions, white part, sliced widthwise (save the green bits for later)

1 lime, sliced into quarters

2 1/2 tbsp vegan barbecue sauce*

2 tbsp sunflower seed butter

3 tbsp raw young coconut aminos OR 3 tbsp soy-free soy sauce

1/2 cup chopped cilantro

1 1/2 cup bean sprouts

2 tsp sriracha sauce (you can cut down if you're not into spicy thaaangs)
1. Heat oil in saucepan. Sautee red onion, garlic and green onion for one minute. Be careful!
2. Add barbecue sauce and sunflower seed butter. Mix together well and simmer for 1 minute.
3. Now, add 2 wedges' worth of lime juice and the raw coconut aminos.Continue to stir.
4.Test the sauce. Does it need more salt? more pepper? more sweetness? Use the aminos in place of salt and red pepper flakes or sriracha in place of pepper when seasoning.
5. Add noodles. Begin to toss with sauce. Squirt a little lime juice in the mix, and add the bean sprouts. toss them all around.
6. you're done! plate with chopped green onion, cilantro and lime wedge. if you're feelin' rather feisty, perhaps crumble some raw sunflower seeds over the dish. fancy!
*Now, I know the barbecue sauce came out of left field, I know it did. But! I couldn't find any tamarind paste anywhere. Dean and Deluca, Sunac, Whole Foods, they all failed me. So, I used my culinary expertise**to substitute the tamarind with barbecue sauce instead. and you know what, guys?
IT WORKED.
**lol. jk. I'm lazy.
And for bonus points, a fancy dessert: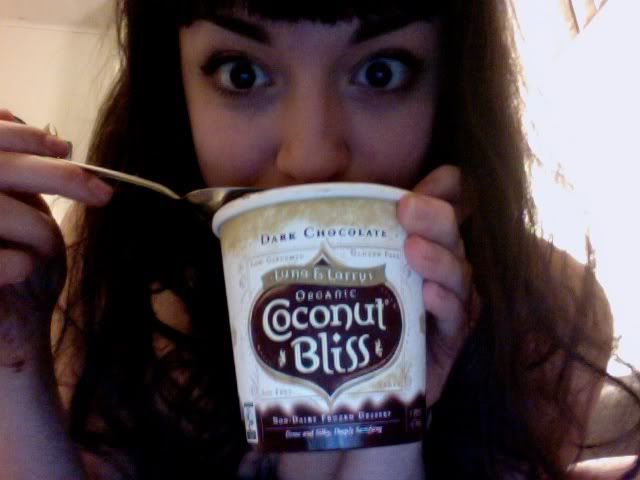 That's right. Agave-sweetened, dark chocolate coconut milk ice cream. Every food dork's dream. Luna and Larry are the lactard's Ben and Jerry.
So, a success on all fronts Thai food, at least tonight in my kitchen. I have to say, eating pad thai might become a mid-day ritual again with this recipe.
This recipe is:
safe for anyone with a peanut, tree nut, soy or sesame allergy.

it's naturally gluten-free, and there are no threats to our seafood-fearing friends.

ain't no eggs in this get-up. nor any milk!

generally vegan. but….

…it can be made meat-eater friendly: just add 1 cup of cooked chicken breast per person being served.